ST 50 Digital Soldering Station with TD-100 Iron and Instant Setback Cubby (DISCONTINUED)
Programmable Production Soldering Station

PACE's ST 50 features simplified interface with digital display and soft buttons,
just push the arrow keys up or down to change temperature from 500-850°F (260-454°C)
The most popular of PACE's single channel Soldering Stations, PACE's ST 50 is a single channel, production soldering station with Digital Display and keypad plus a host of programmable features not found anywhere on similarly priced systems! Standard features include: Digital Display; IntelliHeat Control; Temperature Setback & Auto-Off; Password Lockout; Definable Operating Temperature Range and much more. The heavy-duty metal housing makes this system the ideal choice for the harshest environments and the sloped face of the front panel is a standard feature for ease of use. The unit includes PACE's Instant Setback Cubby which places the iron into Setback Mode after 45 seconds of non-use. This significantly extends tip life, especially when working with lead-free solders.
Significantly Lower Your Costs with TD-100 Tip-Heater Cartridges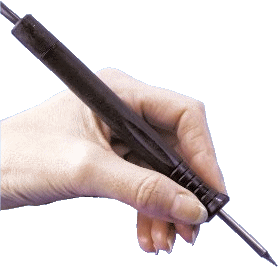 The system is packaged with the TD-100 Tip-Heater Cartridge Soldering Iron, considered by many to be the most comfortable soldering handle available, along with Tip & Tool Stand. Crafted by a team of surgical instrument engineers to eliminate fatigue and improve control, the PACE TD-100 is simply the most ergonomic, powerful and easy to use soldering iron on the market today! The handpiece uses a patented Tip-Heater Cartridge which can be changed in seconds, and most tips heat up within 10 seconds flat! Yet TD-100 single point soldering tips cost less than $11 (US) ... compare that to the much higher prices of Hakko, Metcal, Easy Braid, Thermaltronics and JBC tips!

Most single point TD-100 Tip-Heater Cartridges cost less than $11, heat up in seconds
and are Hot-Swappable without tools and without turning the power supply off!
Power Without Expense!
But just because they cost less doesn't mean TD-100 tips are less powerful. Performance and responsiveness is exceptional, perfect for demanding Lead-Free or multilayer soldering. TD-100 Tip-Heater Cartridges feature instantaneous load sensing and on-demand power. Thermal demand is continuously monitored and the heater responds immediately by providing power to meet the demand from the work, without overshoot. And operators are not locked into a single temperature like Metcal, Easy Braid or Thermaltronics, which require a separate (and very expensive) tip to be purchased for each temperature desired!
How our Instant Setback Cubby extends tip life and saves you money
This ST 50 configuration includes an Instant Setback Cubby to help save your tips and money. Just place the TD-100 into the Cubby holder and it automatically
places the iron into Setback Mode after 45 seconds of non-use. The tip is still hot (176°C/350°F) but the corrosive action of the leaded or Lead-Free solder is stopped, maximizing the life of your tips! The system returns to normal operation within seconds when the iron is removed from the cubby. This significantly extends tip life, especially when working with lead-free solders. The Instant Setback Cubby comes with Sponge, Stay-Moist Well, non-abrasive Brass Wool to clean oxidation from tip and holds up to 6 tips.
Primary Features

IntelliHeat Control Technology
Fully programmable, digital processor, LED Display with soft-keys
Adjustable and accurate closed loop temperature control from 500°F-850°F (260°C-454°C)
Password lockout
Temp Setback and Auto-Off helps maximize tip life and saves on power costs
Tip and Tool Stand with Sponge & Stay-Moist Well, non-abrasive Brass Wool to clean oxidation from tip and holds 6 tips
Instant Setback Cubby comes standard for extending tip life
Definable Operating Temperature Range
Completely ESD/EOS safe; ESD Grounding jack
Durable aluminum extrusion housing incorporates "T-Slots" for mounting
Can be mounted under bench or shelf with optional Bracket pn 1321-0609-P1
Stackable
120 V Part #:
8007-0555
230 V Part #:
8007-0567
IntelliHeat Control Technology
Digital Display & Keypad
°C/°F Temperature Scales
Password Lockout
Temperature SetBack
Auto-Off
Definable Operating Temperature Range
ESD grounding jack
ESD Safe metal housing
Stackable
Can be mounted under workbench or shelf with optional bracket
Power Requirements

97-127 VAC, 50/60Hz, 90 Watts Max/197-253 VAC, 50/60Hz, 90 Watts Max

Control

LED Display

Control Technology

IntelliHeat

Tip to Ground Resistance

2 ohms or less

Temperature Accuracy

Meets or exceeds ANSI-J-STD

Absolute Temperature Stability

° 1.1°C (° 2 °F) at idle tip temp.

Temperature Range

Tip Heater Compatible Handpieces = 205° to 454°C (400° to 850°F) Nominal
SensaTemp Compatible Handpieces = 176°(Dial)or 37°C (Digital Display) to 482°C (350°(dial)or 100° (Digital Display) to 900°F) Nominal

System Can be Calibrated

Yes