PACE Provides Equipment, Technology & Training to All Branches of US Military & DoD

Since the 1960's, PACE Worldwide (also known as PACE Incorporated) has had a long and rich history supporting the US Military and Department of Defense. Utilized at all major DoD, Army, Navy, Air Force,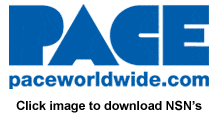 Marine Corps, Coast Guard and US Federal Government maintenance Depots, you'll also find PACE equipment and technology in shipboard repair shops, mobile maintenance vans, submarine reactor maintenance shops and thousands of intermediate maintenance facilities worldwide. PACE systems are legendary for their reliability, long-life and supportability. And most equipment, spares and replacement parts are readily available through National Stock Numbers/NSN's or via GSA Federal Supply Schedule/Contract. Click on the PACE logo above or HERE to download NSN Listing by PACE Part Number (in pdf format).
A 40 Year Partnership with the US Navy 2M/MTR Program
PACE has been an active participant of NAVSEA's 2M/MTR (Miniature-Microminiature/Module Test and Repair) Program for over 40 years. The 2M Program provides the tools and techniques required for certified Navy, Marine Corps, Air Force (under the AFREP Program) and Coast Guard electronic repair technicians to perform highly reliable, high quality repairs on complex circuit card assemblies.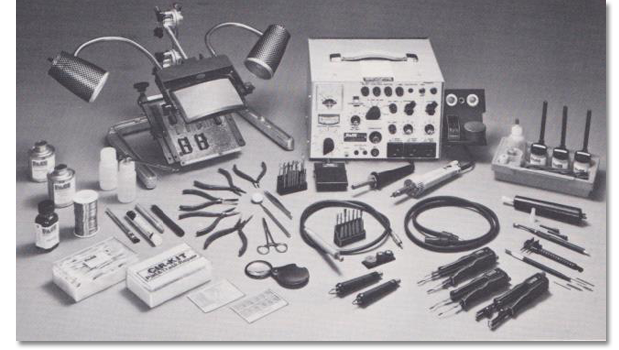 PACE's PRC-350 Repair System was the centerpiece of NAVAIR's AMRIP/Avionics Module Repair Improvement Program
during the mid-70's. AMRIP was a precursor to NAVSEA's 2M/MTR Program.
In 1968, PACE was awarded a contract to provide the specialized equipment, tools, techniques and training required by NAVAIR's AMRIP/Avionics Module Repair Improvement Program (as 2M/MTR was known back then) technicians, to perform reliable component level repairs in the field. PACE performed the initial certification training onboard Aircraft Carriers in 1968, and fielded an early version of the PRC-350 Bench Top Repair Center (see image below), an integrated kit with all the necessary tools needed to handle the most delicate or difficult electronic repairs. The AMRIP Work Centers were an immediate success: benefits included increased readiness and operational availability, with the added payback of saving significant operating dollars. An exhaustive Training/Technical Manual was produced by PACE in 1969, whose specialized techniques and procedures were incorporated into later DoD/2M manuals, and are still in use today.
PACE and 2M/MTR Today
Under the skillful management of NAVSEA 04 since the early 1980's, the 2M/MTR Program has significantly expanded. It is now a joint-service program with active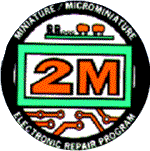 participation from the Navy, Marine Corps, Coast Guard and Air Force, and has been adopted for use by many of our foreign military allies. Cost savings are immense. From April 1996 to December 2014, Navy maritime commands outfitted with 2M/MTR capabilities reported 189,844 repairs completed, which resulted in 12,329 CASREPS averted/corrected and $689 Million in cost avoidance. The cost savings become more apparent if you consider that the 2M Program receives only $5 million per year in funding. For more information, please click HERE to download a pdf with detailed history as well as current status of the 2M/MTR Program.
A central component of 2M's "Mini" and "Micro" Electronic Repair Kits is the PRC 2000 Miniature Microminiature Repair System, manufactured by PACE Worldwide. First introduced in the 1990's, over ten thousand of these workhorse stations have been manufactured (over 2500 for the 2M Program), many of which are still in use after 20+ years. Renowned for their reliability, sustainability and longevity, PACE continues to support the PRC 2000 series with upgrades and enhancements. For more on the PRC 2000 Series of Miniature Microminiature Repair Systems, please click HERE.
 
Renowned for their reliability, sustainability and durability, over 2500 PRC 2000's have been fielded in support of 2M/MTR since 1994.
In 2006, PACE's MBT 350 was designated the primary electronics repair system in the US Marine Corp's field deployable TK-8641 Portable Microminiature Solder Tool Kit. Utilized exclusively for 2M requirements, the MBT 350 is much smaller/compact than the PRC 2000, rugged enough for field deployment, yet capable of handling the highest level 2M repairs.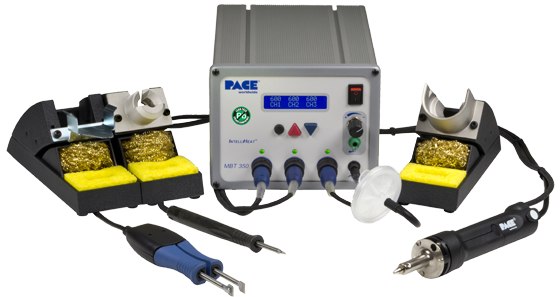 PACE's MBT 350 is a central component of the TK-8641 Portable Microminiature Tool Kit supporting US Marine Corps 2M requirements
Over 500 have been supplied to the USMC. In addition, the MBT 350 was recently selected as the main circuit card repair station in Tobyhanna Army Depot's DMOF ("Depot Maintenance of the Future") Program. For more information on the MBT 350, please click HERE.
Download PACE NSN Listings Download White Paper on 2M/MTR PACE Govt & Military Distributors Please contact me